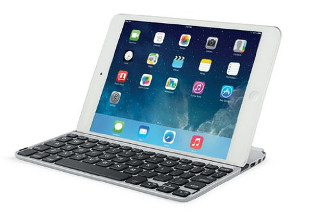 This was talked about on episode 114 of Linuxinstall.net podcast.
I use my iPad Mini Retina daily, its the perfect "always with me" companion device. One issue I run into is the on screen keyboard takes so much room when working on anything more than typing out a URL. I wasn't about to carry around a huge bluetooth keyboard/case, let alone pay what most cost.
Last week Amazon had a sale on the Logitech Ultrathin Keyboard Cover at 75% off, which was in my impulse purchase range. I am very pleased. The keyboard is almost the same size as the iPad Mini, and just a tad lighter. Logitech claims 3 weeks at 2 hours a day battery life, with USB charging. The iPad Mini docked angle works great on a table but is a little too vertical for other positions.
I have been using Server Auditor as my SSH client. It has a 'pro' version, but the free app works very well, displaying even my fancy prompt with ease. Terminal work is so much easier now without the on screen keyboard taking up half the display. I hope note taking at meetings will benefit as well.