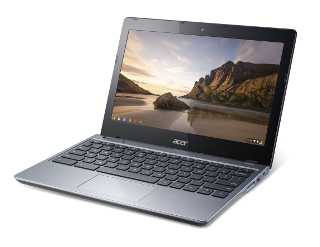 Chrome OS has been something I wanted to play with, so I totally impulse purchased this 2gb/16gb C720 Refurbished unit to give it a try.
Initial impressions are good.
Overall build feels a little cheap, but it was only $150. Screen looks great when directly in front, but starts to wash out if viewed from an angle. Keyboard isn't the best feel, but I was able to type comfortably after a half hour of use. Multi-gesture touch pad works pretty well. Unit connected to my wi-fi without issue, and took just over an hour to fully charge the battery.
One thing I somehow didn't realize was the Intel Haswell Processor needs a cooling fan. Mine rattles, and is louder than I would like (but not as loud as say the jet inside of the X100E Thinkpad). Chances are that is why it was returned in the first place, and it didn't get fixed. I HATE cooling fans.
The unit auto-updated after I logged in with my Gmail account. From what I read, each boot it will check and install updates as needed. All my bookmarks and settings were ready for use since I use Chrome as my desktop browser. The nicest thing so far is your basically instant on, just like a tablet.
I have been trying to use it to test limitations of the OS. Hopefully in a week or so I will report my findings.