Thinkpad 11e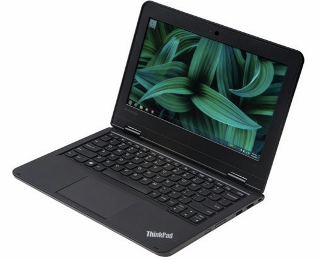 Over holiday break a friend bought some AMX automation equipment and needed help learning how to program it.
I picked up an ASUS T100 a while back to be my carry around tablet with a keyboard for just such tasks. Except for using it to test some HDMI connections this was the first time I tried to program with it ... and the last.
Woot has daily sales that I keep an eye on. Last week they listed a Lenovo Thinkpad 11E on sale for 65% off retail. Too good a deal to pass up.
This is a rugged laptop marketed at students that has passed military specification for durability. It delivers as advertised shipping with a N2940 quad core CPU, 4gig ram (8gig max), and 128gig SSD. I agree with other reviews that the 11.6" screen is a little lack luster, but ok for the price I got it.
It also comes with Windows 10 Pro and very little bloatware. So after the usual hour of updates things were up and running pretty quick.
Being a Thinkpad I was a little disappointed at first it didn't have a trackpoint, but the touchpad is large and works well so I shouldn't miss it. Also having owned other Thinkpads I was looking forward to using their legendary keyboards again. The chicklet style keyboard on the 11e is not what I was expecting, but also turns out to be very good.
Everyone I've shown this to is impressed with the quality. I've done a little work on it today and am happy with the unit. As for the poor T100, you will be listed for sale soon.
→