Chromecast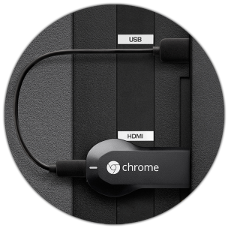 At a price of $35 it was hard not to buy one of Google's latest toys, but including free Netflix for three months made it a no-brainer.
I have been very pleased with my other 'straight from google' devices, and the Chromecast is no different. Usability is still hindered by the lack of app support, but I expect that to change once the SDK is released.
Currently both Netflix and You Tube work perfect when launched from my Nexus 4 phone. Until the latest update, using a third party program called Fling would let the Chromecast play any supported video from your PC. Although this no longer works, Google said blocking the video playback was not on purpose. So for now, using your Chrome web browser is the only other way to get content on your TV.
Unfortunately as my Apple TV currently provides the above services, and until the SDK is available to make more apps, the Chromecast is going to patiently sit in the drawer. I have no doubt that it will eventually become my go-to device for TV media playback.
→